The sixth-grade class at St. John's designs and manages a business each year as part of a class project.  The students create a business plan, manage the business and then they donate the proceeds to the school. Your order helps the students learn about running a business, teaches them about stewardship and it helps the school with operating expenses, which helps them keep tuition affordable!  Please consider purchasing their product and supporting their class and the school! The students thank you for your support!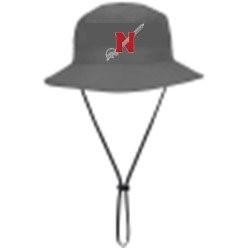 Port Authority Bucket Hat – $30 Each 
Outdoor Port Authority® bucket hat for the avid explorer! Bucket hats are designed with UPF 30+ sun protection and No Fly Zone® insect-repellant technology. Complete with a chin strap and adjuster toggle for a tight fit.  Fabric is 75/25 polyester/nylon.      
 Color:  Sterling Gray
 Sizes:   S/M or L/XL
Order through Mrs. Kenney at Neumann or complete the order form below and send to St. John's school in Weston.  
Price:    $30 Each ($27 Each for Saunders Catholic School Students)   
Name:                                    _____________________________________________________
Number of S/M Hats:        ________________  Number of L/XL Hats:  _________________
Total Price:                          ________________
Make checks payable to:    St. John's School                                                                       
*If you have any questions, please contact Eva Fujan at efujan@yahoo.com