Bishop Neumann High School has both a Cheerleading Team and a Dance Team. The teams work to increase crowd involvement and enthusiasm during football and basketball games and also compete in local and state competitions. Combined, the teams collaborate to form the "Spirit Squad," who meet weekly to create motivational signs to hang in the school for various Bishop Neumann teams and groups. A few times a year, both teams offer "Mini Spirit Squad" camps for local children hoping to learn a few new moves!
Cheerleading Team Coaches:  Amy Bartek & Kelsey Baumert
Dance Team Coaches: Katie Sladky & Bryn Hannan
Congratulations to the Bishop Neumann Cheer Team who are the 2023 Cheer State Champions!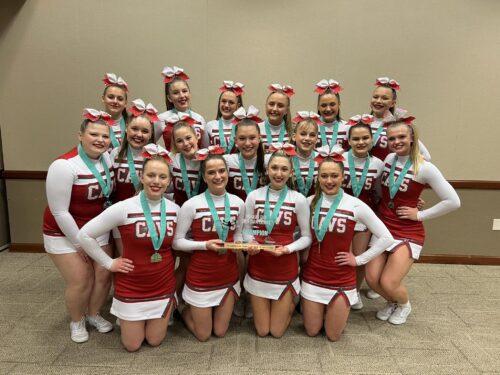 Congratulations to the 2023 Bishop Neumann Dance Team who place 4th in C1 Jazz and 6th in Pom performance!