The wish list below is something we have been working on for a while now. It is compiled of items our staff would like in order to help improve either our curriculum or environment for students, staff, or community. All items will not be purchased until the item is fully funded. Additionally, in an effort to keep our school running and the reality of the Neumann Fund annually, there will be a 10% tithe on all funds raised towards the wish list. That tithe will go to help hit the Neumann Fund goal this year. If the Neumann Fund goal is reached before June 30th this year, funds raised after for the wish list items will get 100% dollar contribution. The Neumann fund goal resets (with a 3% increase) on July 1st and the 10% tithe will then be reactivated.

If you have questions or would like to contribute to the Annual Neumann Fund or the wish list please contact Ryan Mascarello in the Development office at (402)443-4151 or ryan-mascarello@cdolinc.net. If you do not have questions and would like to contribute today, please specify where you would like your funds applied when sending them in. You can drop off contributions or mail the development office at:
Bishop Neumann Development Office
202 S. Linden Street
Wahoo, NE 68066
We will have the ability to process credit cards for the list with a fee sometime within the next few weeks.
These items are in no particular order. If you would like to "fully fund" an item, please keep in mind the 10% tithe to the total for the Neumann Fund.
Teacher Wish-List:
2nd Refrigerator – Family Sciences – FUNDED, THANK YOU!
Requested by – Mrs. Wonka


New Hand Mixers – Family Sciences
Requested by – Mrs. Wonka
We use these weekly and currently, they are all mismatched. With all of the same brand, we won't have to match the beaters to the mixer every time which will save time in the classroom.
Estimated Cost: $200
Empathy Pregnancy Simulator – Family Sciences
Requested by – Mrs. Wonka
For Human Development class it is important to understand how much pregnancy impacts a woman's body. This would be an impactful and engaging opportunity to offer students to wear the belly to gain empathy for pregnant women.
Estimated Cost: $1,000
New Gym Floor Tarps – Band, Choir, Dances, Prom, Concerts, Presentations
Requested by – Mrs. Costa
New tarps for the gym for when we have different events (prom, concerts, etc…). The other ones are so old that they are warped, stained, ripped, and so difficult to tape down so nobody will trip or get hurt walking on them. They are becoming more and more of a major safety issue. Not to mention, I don't know how well they really protect our gym floor anymore.
Estimated Cost: $10,000 this would include new tarps, storage, and deployment system.
Sound Board – TravelMaster Shell – Choir, Play, Band
Requested by – Mrs. Costa
The acoustic shells are used when musicians perform in a large space not acoustically designed for music (like a gym in our case) and don't have a ton of hanging mics/microphones to help amplify their sound. The shells direct more of the sound out to the audience in front of them providing a better listening experience rather than getting lost up into high ceilings and wide spaces. It also benefits the performers because they can better hear each other making it easier to balance their sound, hear entrances, etc… providing more confidence, which obviously helps them have a stronger, more effective performance altogether.
https://shop.wengercorp.com/education/travelmaster-shell.html#
Estimated Cost: $15,000

Eggspert Buzzer System – Math and Religion – FUNDED, THANK YOU!
Requested by – Sr. Megan Therese
Math Wars Method Workshop – Math – FUNDED, THANK YOU!
Requested by – Sr. Megan Therese
New Folding Machine for Mailings and Programs – All departments that make programs or send mail
Requested by Front office Secretaries
Our current one does not fold nicely, tears papers, messes up, and it is too costly to repair.
https://www.mybinding.com/duplo-df-850-friction-feed-tabletop-paper-folder.html.
Estimated Cost: $3,000
New Weight Room Equipment – Athletics & P.E.
Requested by – Coach Roberts
Dear Bishop Neumann Community,
This is a project initiative to get new equipment for our weight room which would greatly impact all of our grade levels 7-12. As it stands, our equipment is quite dated and is certainly due for an upgrade. Most of our equipment is 20+ years old, some of which can be a safety concern. Advancing what we have would not only greatly benefit our sports programs in junior high and high school, but also our physical education classes across the board. As the PE teacher, I have taken my classes in the weight room a minimum of twice a week throughout the entire school year, so it gets used regularly and is a huge part of our overall fitness program for the school. This would not just benefit our sports programs, but all students at Bishop Neumann. To put it simply, our kids spend a ton of time in the weight room and it is time to advance what we have. Our spacing and capacity for what we can do currently with the old equipment is limited and new equipment would greatly improve the layout and what we are able to do. Our current equipment has served us well, but the advancements in kinesiology and exercise equipment within the last 15 years are ahead of our current capacity. Please consider donating to the Bishop Neumann Weight Room wish list item so we can improve our school moving forward.
Thank you and God bless!
Coach Roberts
We would like to get to $50,000 but can get started at $35,000. We can accommodate the new equipment without altering the space it's in. Although there is a lot of equipment that will stay in place, the old equipment being replaced will be sunset, recycled, or sold.
Each Tier includes 8 new multipurpose racks with 16 pull-up bars. Our current setup is 3 and 3.
Tier 1 ($35,000)- new bars, and new bumper plates.
Tier 2 ($50,000)- Tier 1 plus new kettlebells, and new plates for racks.
Tier 3 ($50-$100,000)- Tier 1 & 2 plus new dumbbell set, custom logos, and professional installation.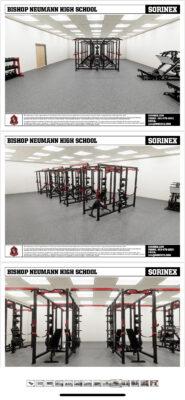 New Style of Desk and Chairs – Spanish
Requested by – Mr. Waldman
The style of desk I am requesting (with seats not attached) will allow for more flexibility in arranging the classroom space. The desks could be arranged in a semi-circle around the outside of the classroom, leaving the middle of the room open. When I am teaching I can stand in the middle of the room essentially giving every student a front-row seat. When we act out stories, we have an open space in the middle of the room so everyone can see. When we have class debates, the horseshoe arrangement promotes more discussion and participation. Finally, having detached chairs would allow for another arrangement in the classroom – no desks. Sometimes I might want every student to sit on a chair, but not to have a desk. The desks with detached chairs allow for many more options in arranging the classroom that my current desks with attached chairs do not.
https://www.schoolspecialty.com/furniture/desks/student-desks/classroom-select-traditional-open-front-desk-adjustable-height-20-x-26-inch-a-laminate-top-5009336
https://www.schoolspecialty.com/royal-seating-stackable-chair-1363857
Estimated Cost: $7,000

New office door with Window – Development Office
Requested by – Development Staff
To allow privacy of our office conversation while keeping out cold and restroom smells. Our current door does not have a window and we are interrupted a lot by knocks and "barge-ins."
Estimated Cost: $1,200

Stations of the Cross Booklets – Campus Ministry
Requested by – Mrs. Kenney
We need Stations Booklets because every time we have stations I have to borrow from St. Wenceslaus parish. It would be nice to have our own. We have a few but not enough for classes or larger groups.
Estimated Cost: $300

Patens for School Mass – Campus Ministry
Requested by – Mrs. Kenney
We are in need of patens for Mass at school, we currently do not have enough. We borrow from St. Wenceslaus from time to time. It is inconvenient and we mix things up not knowing what belongs where.
Estimated Cost: $510

New Monstrance – Campus Ministry
Requested by – Mrs. Kenney
We would like a new larger Monstrance because our current one is very small. It would be nice to have a larger one to give our Lord the reverence and display he is do, and for our larger adoration events. For larger events, we have currently been borrowing St. Wenceslaus's.
Estimated Cost: $500 – $5,000

An additional ¾ size tuba for junior high and elementary students – Band
Requested by – Mr. Kellett
We currently have one ¾ size tuba. The full-size tubas we have for high school are too big for elementary students and most junior high students to handle. They are physically large and take an enormous amount of air to play. Having another ¾ size tuba would allow us to start an additional 6th or 7th grader on tuba, which will give us that critical low sound we need. It will also help prepare students for playing the tuba in the high school band.
Estimated Cost: $3,000

A vibraphone (percussion keyboard instrument with metal bars) – Band
Requested by – Mr. Kellett
There are 5 keyboard percussion instruments, each with its own distinct sound. When I was hired, we had 3 of the 5, chimes, bells, and xylophone. Due to a generous donation, I was able to purchase a marimba. With a vibraphone, we would have all five. The vibraphone is used in concert and jazz band. Since I've been here, anytime I needed a vibraphone I've had to borrow one from Wahoo Public and Midland College.
Estimated Cost: $3,000